I know, I know. It's an old story...everyone who's a true fan agrees that the Bowl Championship Series (BCS) is not the ideal way to determine the two teams that play for college football's national championship. In the BCS era, human rankings (by coaches and hand-picked voters) and computer rankings are combined to determine each team's rankings. This week's opening BCS rankings gave David (this year played by Boise State and Texas Christian) no hope against the Goliaths of college football. Oklahoma and Oregon are rated first and second, while Boise St. and TCU are third and fifth respectively. And, the toughest part of the underdogs' schedules are primarily done, while the bigger schools have much tougher challenges in the last half of the season.
Bob Stoops whines to officials on and off the field. But, he has no beef this year with his crew atop the initial BCS standings.
I'm going to give you a fresh perspective on why the BCS needs to be destroyed, trampled, villified, tarred and feathered, executed (shall I go on?)...actually I'm going to give you a handful of them.
#1. PLAY THE GAME ON THE FIELD!!!!
On any given day, any given team can win. It's an old saying, but it's absolutely true. If Oklahoma played Boise St. ten times in the title game this year, the Sooners might win eight or nine times. But, there's that one time...just ask the same Oklahoma school in 2006 (
http://espn.go.com/ncf/recap?gameId=270010201
). How many times do we see upsets? Perhaps 20% of the time. If you have two fairly equal schools, maybe it's closer to 30-40%. In the twelve years that the BCS has been in existence, the #1 team has won six games while the #2 team has won six games. What are the chances that with 30-50 days between their final game and the National Championship game that one team might lay an egg? I'll hazard a guess of better than 50/50. The chances for an upset are absolutely ripe, given the current downtime between the end of the season and the title-decider.
How to Fix - Allowing a playoff system (4 teams or 8 teams) allows a two or three-week playoff single elimination format where the winner is crowned...ON THE FIELD! I'm not a big fan of champions being appointed. It's not a Supreme Court justice that is in good favor with the President, it's a college football team. Play the game.
#2. The Championship Game needs to occur as part of the college football season
Most teams conclude their regular season schedules within 80 to 90 days. How much sense does it make to play 12 games in 90 days, then have a 50-day break before the National Championship? It's obscene. Even the NFL has waffled between one and two weeks between the conference championships and the Super Bowl because the gap between games is too long. The only thing holding it at two weeks now is the ridiculous Pro Bowl between the conference championships and the Super Bowl. The NHL, NBA, MLB all get their title games done within 2-3 days following the previous game. Oh yeah, that's pro sports. That's not a fair comparison. Let's try college basketball. The semifinals are on a Saturday night, the winner is crowned two nights later. Hockey, baseball - similar story. It's a matter of a few days between the next to last game and the championship. 50 days??? Ridiculous.
How to Fix - Hmmm...maybe a playoff system? The more prominent conference championships could be played the second weekend of December. All your favorite secondary bowl games could be played in mid to late December. Your BCS bowl games could be played on January 1 (Rose, Orange, Fiesta, and Sugar) as the quarterfinals with the eight top-rated BCS teams (1 vs. 8, 2 vs. 7, and so on). Semi-finals could be one week later, with the National Title game played on or about January 15. What difference is January 10 and January 15 for when the champion is crowned? None. At most, there would be a three-week gap between the end of the season and the beginning of the playoffs.
Jim Tressel experienced the big game letdown in Ohio State's most recent title shots. Was it the layoff between games?
#3 Talk about irrelevant games is...irrelevant.
Boise State squeaked out its opener against Virginia Tech, a traditionally strong ACC team. The Hokies promptly lay an egg the following week to an FCS team, James Madison. Everyone in Idaho probably groaned when they saw the result of this game. Why? Because there is too much extrapolation done by voters. Should the outcome of this game affect the National title game at all? No. Why not - because neither one of these teams are national title contenders. So, a surprising loss by Virginia Tech should not penalize the Broncos' title hopes. Oh by the way, the Hokies are 5-2 (only losses against BSU and JMU). You could name 100 games that college football experts analyze when discussing who is deserving of a National Championship shot. But, most of them don't matter...and they would become irrelevant if a playoff system were implemented.
How to Fix - If there is a playoff system in place, the conversation is focused on the 7th or 8th seed teams and who deserves to get those seeds. If you look at the way college basketball post-season is handled, it is nearly flawless. 64 teams get in (with some discussion over the last few teams to get in), within three weeks a champion is crowned. That could easily be done with 8 teams in college football.
It will be quite interesting to see what happens if there are only two undefeated teams, one of which is Boise St. or TCU, to see if a team like Alabama trumps the Broncos or Horned Frogs and gets into the title game. In years past, there is quite a number of what I consider injustices. That's why I have boycotted watching the BCS Championship game since 2006.
Injustices in the Past Years
2006 - Boise State goes 12-0 and gets the #7 BCS seed while one-loss Florida trounces previously undefeated Ohio State, 41-14, to win the title. Boise State played a game for the ages (
http://espn.go.com/ncf/recap?gameId=270010201
) in defeating the Oklahoma Sooners. They led throughout, almost blew it late in the 4th quarter, and had the moxy to call three trick plays on the final drive and in overtime to beat Bob Stoops' crew. The point of this game wasn't the result. It was that teams like the Broncos belonged in the conversation.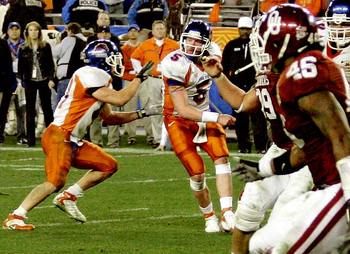 Ian Johnson takes the ball from quarterback Jared Zabransky in the Statue of Liberty play to score the two-point conversion and stun Oklahoma in the 2007 Fiesta Bowl.
2007 - Hawaii goes 12-0 and gets the #9 BCS seed while an 11-2 LSU team gets into the BCS title game and whips a one-loss Ohio State team, 38-24. We have a two-loss national champion?? There is a LOT wrong with that statement. Kansas, a top echelon team in 2007 in the Big 12 had one loss and obtained a #8 BCS seed. That seems fair. Actually, many two loss teams (LSU, Virginia Tech, Oklahoma, Georgia, USC) were rated above Hawaii and Kansas n the final poll. Hawaii got absolutely thrashed in their game by Georgia. Was it a lack of respect that led to the Fighting Warriors' poor performance? Or, maybe it was just that Georgia was the more talented team. The point is - we will never know how Colt Brennan and his buddies from the islands would have performed if given the opportunity against the top dog.
Les Miles' coaching methods may be erratic, but so was LSU's path to a championship in 2007.
2008 – Utah goes 12-0 and gets the #6 BCS seed, Boise State goes 12-0 and gets the #9 BCS seed. The one-loss Gators and Sooners play for the title. Oh by the way, Utah out-physicalled Nick Saban's Alabama team to obtain a 14-point victory in the Sugar Bowl. Other teams in contention: USC (12-1), Texas (12-1), and Penn State (11-1). Yeah, we don't need a playoff with all of these evenly-matched powerhouses and undefeated smaller schools. Let's decide it with the polls.
2009 - There were five undefeated teams. Of course, the two powerhouses played. Alabama beat Texas 37-21. But, the flaming turds who decided the BCS matchups pitted undefeateds, Boise State against Texas Christian. I guess they were tired of seeing these lesser teams beat the pants off the bigger schools in bowl games...so why not have them play each other so the BCS doesn't get further embarrassed? In retrospect, once-beaten Florida was probably the second-best team that year (behind Alabama) and wallopped previously undefeated Cincinnati.
I'd be remiss if I didn't at least mention the 2004 Auburn Tigers. They went through the rugged SEC schedule with a mark of 12-0 only to be left out of the title game between USC and Oklahoma. The Trojans slapped the Sooners, 55-19. But, the Tigers won their bowl game, went 13-0, and got nothing.
Side note #1 - now, no one has a title from this season because of the improprieties between USC and Reggie Bush after the NCAA forced the school to vacate all wins in the Reggie Bush era.
Side note #2 - Ashlee Simpson (pre-nose job) performed at halftime and sounded horrendous. The Orange Bowl crowd booed throughout her terrible performance.
Here are some 'What If' scenarios I concocted based on my top 8 rated teams over the past few seasons and how I envision them playing out:
Year First Round Matchup Semifinalists Finalists Champion
2006 - #1 Ohio St. vs. #8 USC #1 Ohio St.
#4 Boise St. vs. #5 Wisconsin #4 Boise St. #4 Boise St.
#3 Florida vs. #6 Louisville #3 Florida
#2 Michigan vs. #7 Oklahoma #2 Michigan #2 Michigan #2 Michigan
2007 - #1 Ohio St. vs. #8 USC #1 Ohio St. #1 Ohio St.
#4 Hawaii vs. #5 Virginia Tech #4 Hawaii
#3 LSU vs. #6 Georgia #6 Georgia #6 Georgia #6 Georgia
#2 Kansas vs. #7 Oklahoma #2 Kansas
Colt Brennan's Hawaii team was undefeated thanks to June Jones' run and shoot offense, then got pummelled by the Bulldogs.
Year First Round Matchup Semifinalists Finalists Champion
2008 - #1 Oklahoma vs. #8 Boise St. #1 Oklahoma
#4 USC vs. #5 Texas #4 USC #4 USC
#3 Utah vs. #6 Alabama #3 Utah
#2 Florida vs. #7 Penn St. #2 Florida #2 Florida #2 Florida
2009 - #1 Alabama vs. #8 Ohio St. #1 Alabama #1 Alabama #1 Alabama
#4 Boise State vs. #5 Florida #5 Florida
#3 Cincinnati vs. #6 Oregon #6 Cincinnati
#2 Texas vs. #7 Texas Christian #7 TCU #7 TCU
2010* - #1 Oregon vs. #8 LSU #1 Oregon #1 Oregon
#4 TCU vs. #5 Oklahoma #4 TCU
#3 Auburn vs. #6 Michigan St. #6 Michigan St.
#2 Boise St. vs. #7 Utah #2 Boise St. #2 Boise St. #2 Boise St.
* - Based on season to date as of 10/19
I think that Kellen Moore, Boise St. QB, is a supreme talent and could match up well against any other team this season. He's one of the top Heisman candidates at this point in the year. Unless more than a few teams lose, the Broncos will once again be left out of the title game.
In writing this article, I'm not trying to make the case for all the smaller schools to have an opportunity to play for the National Championship. I'm only saying that the competition to play for a National Championship deserves to be played on the field. If eight teams make the National Championship playoffs, you'd likely see six or seven powerhouses and one or two smaller schools.
This country is all about having an opportunity. Ralph Nader never has a snowball's chance in hell of winning a presidential election, yet his third party votes are still counted. The gap between #2 and #3 in the college football landscape is much narrower than John McCain and Ralph Nader in 2008, don't you think? Well. McCain did have Sarah Palin for a runningmate, but still...let's open this up a little bit. Even Major League Baseball has a few Wild Card teams. And, those teams have been known to steal a World Series or two. Stop spoon-feeding Goliath; he's already overfed.